Upcoming Webinars
Manufacturing & the Crucial Role It Plays in Our Regional Economy
September 28, 2023 @ 10:30 a.m.
Thursday, September 28 at 10:30 a.m. the Business Navigator Alliance of South Central and Southeastern Illinois will host a webinar focusing on the crucial role manufacturing plays in the regional economy.
Attendees will learn about the Research in Illinois to Spur Economic Recovery grant and the opportunity it provides for local businesses, researchers, and entrepreneurs to connect with procurement and supply chain prospects for NASA, the Air Force and Department of Defense.   The webinar will also share in-depth data that demonstrates the significant role that manufacturing has in our economy.
Guest panelists for the discussion include:  Ohio Aerospace Institute, Angela Griffin, President of Coles Together and Zachary Kennedy, Extension State Specialist, Community and Economic Development at University at Urbana-Champaign.
There is no cost to attend and those interested can register here:
https://us06web.zoom.us/webinar/register/WN_GL9IH5u_T_mHYMlG4JoIyg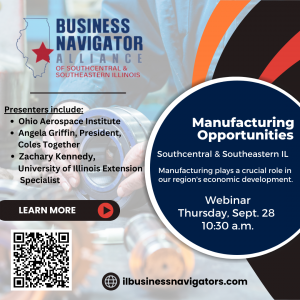 stay informed
Subscribe to our email list for the latested news and developments in economic relief.
subscribe
we're here to help
Don't know where to start? Give us some basic info and we will be in touch to help you get started.
contact us